COVID-19 Vaccine Information
The Ohio State University no longer requires COVID-19 vaccination for students, faculty, and staff.   All campus community members are strongly encouraged to stay up to date on vaccinations as recommended by the Centers for Disease Control and Prevention. Wexner Medical Center strongly recommends both primary and booster doses of the COVID-19 vaccine consistent with CDC guidelines
COVID-19 Vaccine
Does the university require COVID-19 vaccines?
Ohio State announced on Monday, April 24 that the university will no longer require COVID-19 vaccination for students, faculty and staff, with the exception of those who are subject to Centers for Medicare and Medicaid Services (CMS) or other professional requirements. All campus community members are strongly encouraged to stay up-to-date on vaccinations as recommended by the Centers for Disease Control and Prevention. This transition coincides with the upcoming expiration of the federal public health emergency, is in response to changes in the FDA's Emergency Use Authorization of COVID-19 vaccinations and is compliant with Ohio law.
How do I voluntarily report my vaccine information?
Employees: Faculty and staff can use the Employee Health Record system to report their vaccination information. This system should be used by employees of all Ohio State campuses and locations, both among the academic enterprise and the Wexner Medical Center, including Ohio State University Physicians Inc. (OSUP).  
Students: All Ohio State students at all campuses can use the Student Health Services My BuckMD system to report their vaccination information. Sign into My BuckMD, go to document upload, and choose document type COVID19 vaccination records, download a copy of your vaccination and save.  
Who will have access to my vaccination data?
Individual vaccination data will be shared only to the extent needed for compliance and non-compliance measures and for public health purposes such as contact tracing.
University Town Halls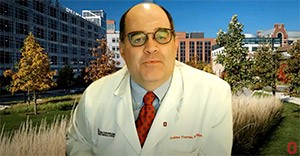 Town halls were held monthly through April to provide an opportunity for the community to ask questions about COVID-19.
The March and April discussions also included information on university planning efforts related to fall semester. Please visit the Autumn Campus Reactivation page to read more details.