Physical Distancing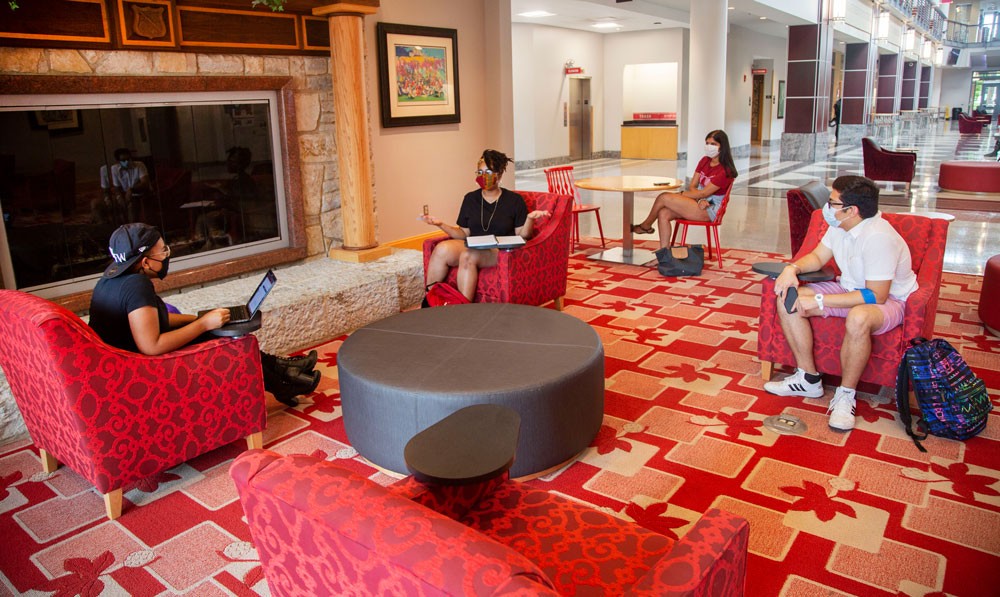 Everyone should maintain a distance of at least 6 feet from others in any public space — indoor or outdoor — wherever possible.
Classrooms, offices and common spaces on Ohio State's campuses allocate approximately 30 square feet of usable space per person.
The number or density of people permitted in buildings and residence halls on Ohio State's campuses has been reduced to maintain appropriate physical distancing. Those who are able are advised to use stairs instead of elevators to support physical distancing.
The university has limited the size of in-person classes to no more than 50 students to reduce density on campus and maintain physical distancing. Additional information on classroom protocols and layouts is on the Classroom page.
Many employees continue to telework, and organizers are expected to conduct most meetings virtually.
Employees have also been advised to use alternative staffing model options, such as remote work, alternating days/weeks or staggered arrivals and departures, to promote physical distancing.
Signage, furniture and cleaning
In coordination with colleges, departments and building facilities contacts, signage has been placed in high-density spaces, as appropriate, to guide foot traffic flow, remind people of safety practices and visually mark wait-line spaces. Use only approved signage available through UniPrint.
Furniture in classrooms and common areas has been marked, arranged or removed to support safety practices, including physical distancing.

At least twice a day, the university is cleaning bathrooms and disinfecting high touch-point areas, including door handles, faucets, handrails and other commonly touched surfaces in high-traffic areas.
Students and faculty should wipe down their personal area (e.g., seat, desk or podium, keyboard, mouse) on their arrival in the classroom before use. Individuals may use the wipes that are part of the university's return-to-campus PPE safety kits, and the university will also be distributing cleaning supplies in classroom buildings.
Accountability measures
Accountability measures are in place for those who do not complete the training and sign the pledge, or choose not to abide by required health and safety guidelines. These accountability measures may range from additional training and informal coaching to formal disciplinary action based on existing structures for students, faculty and staff.