Classrooms
Courses will be offered in several formats, including in-person, online or blended.
As part of the effort to reduce crowded spaces and maintain physical distancing, some in-person instruction will occur in non-traditional spaces in non-academic buildings. For example, arrangements are being made for some classes to be held in auditoriums and performance halls.
Classes that bring together 100 or more people, including students, faculty and instructional assistants, will be conducted virtually or in a blended model that includes virtual instruction with in-person labs, studio sessions, recitation sections and other arrangements for smaller groups.
Classroom layouts
Physical distancing measures in classrooms are part of our commitment to safety. These guidelines are provided to help departments and campuses configure their classrooms consistently with 30 square feet per student and 6 feet of distance between.
These layouts allow for 6 feet from the front of the room for the instructor area and maintain enough space for accessibility turnaround in entryways.
Hexagons should interlock to create honeycomb grid in space. Only instructor table and podium will be drawn in classroom configurations.
Every other seat should be marked, alternating starting seat per row. Student tables (standard 24" x 60") will be drawn to aid in room resets, as well as instructor table/podium.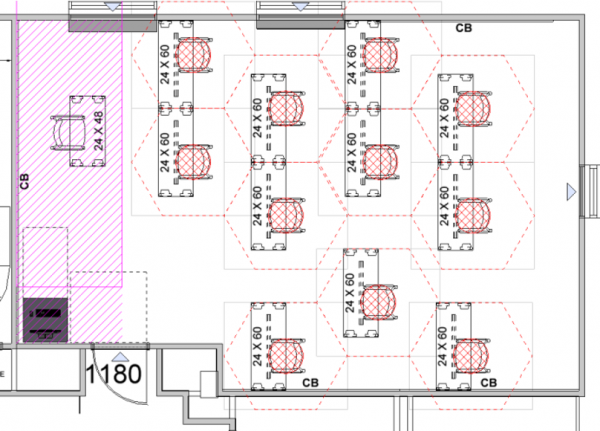 Fixed Lecture Hall Seating
Three open seats between marked seats, skipping rows in between.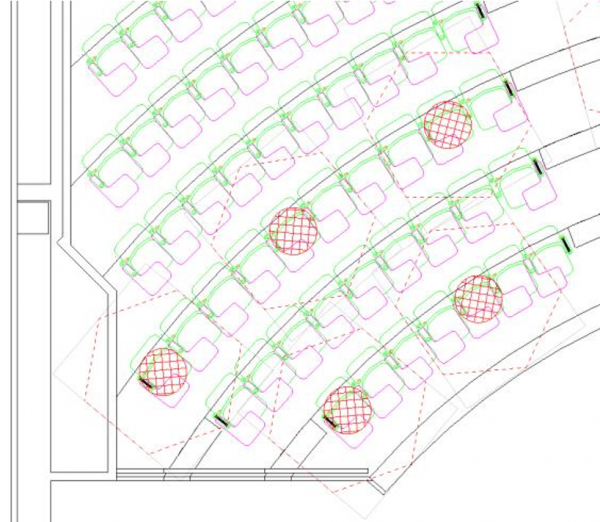 Minimum of two open computers between safe seats, depending on density.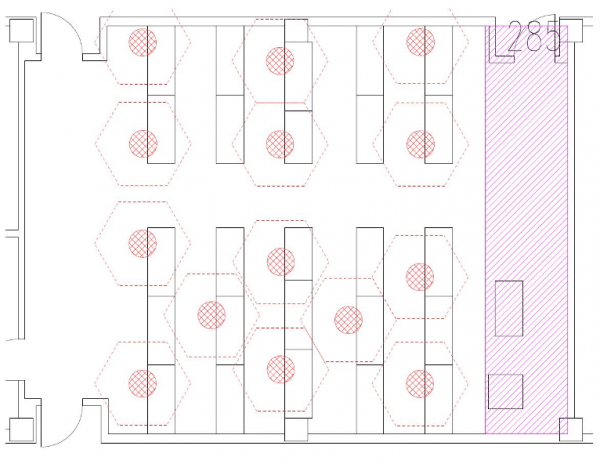 Minimum of two open computers between safe seats, depending on density.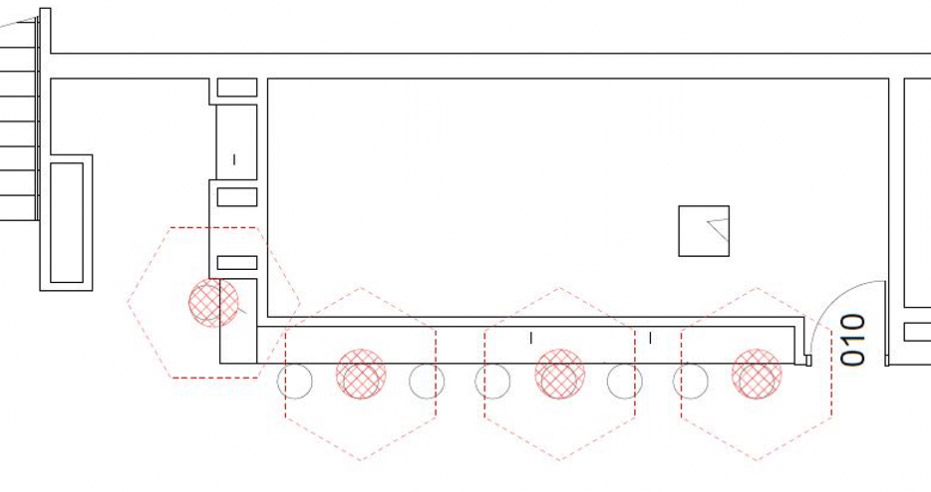 Signage, furniture and cleaning
In coordination with colleges, departments and building facilities contacts, signage will be placed in high-density spaces, as appropriate, to guide foot traffic flow, remind people of safety practices and visually mark wait line spaces.
Furniture in classrooms and common areas is being marked, arranged or removed to support safety practices, including physical distancing.

At least twice a day, the university is cleaning bathrooms and disinfecting high touch-point areas, including door handles, faucets, handrails and other commonly touched surfaces in high-traffic areas.
Information about cleaning protocols and responsibilities for classrooms and conference rooms will be shared prior to the beginning of the academic year. 
Accountability measures
Accountability measures will be in place for those who do not complete the training and sign the pledge, or choose not to abide by required health and safety guidelines. These accountability measures may range from additional training and informal coaching to formal disciplinary action based on existing structures for students, faculty and staff. They are available here.