Campus Readiness
In coordination with colleges, departments and building-facilities contacts, signage has been placed in high-density spaces, as appropriate, to guide foot traffic flow, remind people of safety practices and visually mark wait-line spaces. Use only approved signage available through UniPrint.

Furniture in classrooms and common areas has been marked, arranged or removed to support safety practices, including physical distancing.
At least twice a day, the university is cleaning bathrooms and disinfecting high touch-point areas, including door handles, faucets, handrails and other commonly touched surfaces in high-traffic areas.
For more information on cleaning schedules and supplies, visit Workplace.
Return-to-campus PPE safety kits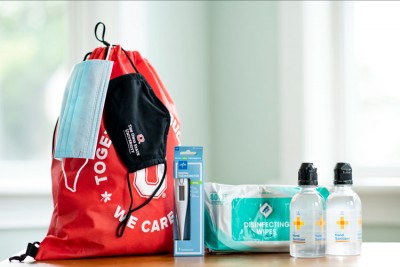 As part of safe return-to-campus plans, return-to-campus PPE safety kits are being provided to students, faculty and staff at no cost. The kits include one disposable mask, two reusable masks, a thermometer, disinfectant wipes and hand sanitizer.
Students living in residence halls received their kits when they moved in. Regional campuses have also received thousands of kits for students, faculty and staff.
For faculty and staff, kits are available for ordering by departments, offices and units through the eStores program. Additional information has been provided by the Office of Business and Finance.
For students living off campus, kits can be picked up at locations listed below. Kits have also been delivered to Inn Town Homes and University Village.
Ohio Union, Info Center

Monday - Friday:  7:30 a.m. - 10 p.m.
Saturday and Sunday:  10 a.m. - 10 p.m.

RPAC, Welcome Center

Monday-Friday:  5:30 a.m. - Midnight
Saturday:  8 a.m. - Midnight
Sunday:  10 a.m. - Midnight

Younkin Success Center, second floor administration desk
Tents help return-to-campus plan
Six tents have been installed in key campus areas to help students, faculty and staff have a successful autumn semester on campus. The new spaces allow classes to take place outdoors to support creative expresion like dance and theater — while enhancing safety. They tents are the product of a partnership between the Office of Administration and Planning; Facilities Operations and Development; Planning, Architecture and Real Estate; the College of Arts and Sciences; and the College of Food, Agricultural, and Environmental Sciences.
Accountability measures
Accountability measures are in place for those who do not complete the training and sign the pledge, or choose not to abide by required health and safety guidelines. These accountability measures may range from additional training and informal coaching to formal disciplinary action based on existing structures for students, faculty and staff.